© 2011 West Yorkshire Learning Consortium,
Suite 89, Oxford Chambers, Oxford Place Centre, Oxford Place, Leeds, LS1 3AX,
Tel: 0113 2453111.
Charity Number: 1100520. Company Number: 04614852.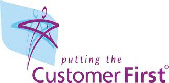 Quality
There are numerous initiatives and resources to promote excellence in learning and skills provision, to meet the needs of learners, staff and management.
Quality Improvement is a systematic approach to improving performance.
Quality Standards provide a framework to measure quality.