© 2011 West Yorkshire Learning Consortium,
Suite 89, Oxford Chambers, Oxford Place Centre, Oxford Place, Leeds, LS1 3AX,
Tel: 0113 2453111.
Charity Number: 1100520. Company Number: 04614852.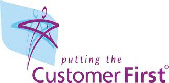 Quality Standards
Quality Standards provide a framework to measure quality.
Quality Standards are a series of awards indicative of high calibre, credible organisations that care passionately about colleagues and customers.
To find out more about the various awards available to learning providers, see menu to the left.