© 2011 West Yorkshire Learning Consortium,
Suite 89, Oxford Chambers, Oxford Place Centre, Oxford Place, Leeds, LS1 3AX,
Tel: 0113 2453111.
Charity Number: 1100520. Company Number: 04614852.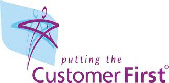 Customer First
Customer First is a National Standard for Customer Service.
Customer First offers a practical approach to help organisations achieve and maintain customer service excellence.
The Standard comprises of 32 criteria, covering three core elements:
Customer relationships
Market awareness
People
For more information, see www.customerfirst.org.