© 2011 West Yorkshire Learning Consortium,
Suite 89, Oxford Chambers, Oxford Place Centre, Oxford Place, Leeds, LS1 3AX,
Tel: 0113 2453111.
Charity Number: 1100520. Company Number: 04614852.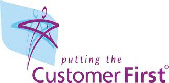 The New Standard
The New Standard is an assessment framework, and an accreditation process, which has been designed to recognise and celebrate the best organisations delivering training and development solutions to employers.

The Standard has been designed to reflect employers' priorities and expectations in sourcing training and development solutions, and the practices of the organisations proven to be the best at delivering them.

For more information see www.trainingqualitystandard.co.uk.